Your wedding day will be one of the most important days of your life; after all, you start a life with your partner and create memories that will last a lifetime. And as a bride, you will be the protagonist of the night, so you need to look and feel amazing. An essential part of your bridal look beside your wedding dress and makeup is your hair because you are probably wearing an accessory like a veil or tiara that will lead all eyes to your beautiful hair.
But what if you are self-conscious about your hair, this could have many reasons; perhaps you always had thin hair, or maybe a medical condition that does not allow you to have long and full hair. Well, if that is your case, let us tell you there are plenty of options nowadays to solve the problem easily. From human hair extensions to a ponytail extensions, you can achieve the look of your dreams in a matter of minutes.
Hair extensions are a common resource for many brides who want to wear a hairstyle that requires lots of hair or long hair than what they naturally have. And the best part of all is that wearing hair extensions does not have to make your hairstyle fake because human hair extensions look and feel exactly like your natural hair.
Let us tell you about the many hairstyles you can wear if you incorporate hair extensions into your natural hair and the endless possibilities of bridal accessories that will look breathtaking on your big day. And we will also let you know the reasons why hair extensions are a bride's best friend.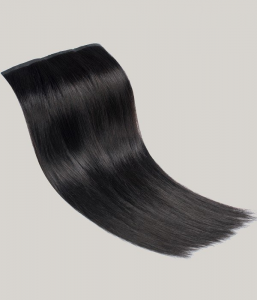 Bridal Hairstyles
Classic bun. Traditional brides always fall for this timeless style, a clean and perfect bun sitting right on top of their heads, perfectly aligned and full of hair. It looks amazing with a headpiece, and you can incorporate a veil underneath.
Braid. A hairstyle that is quickly gaining popularity amongst brides, especially bohemian-styled brides. From messy braids full of volume and floral details to romantic and classic waterfall braids, there is no doubt about the need for fuller hair to achieve the right look; human hair extensions come in handy for braided styles.
Natural waves. Another great opportunity to wear natural hair extensions is simple but beautiful natural wavy hair; carefree and laid-back brides prefer this easy-going style that looks astonishing when you pair it with the right neckline and veil.
Ponytails. From high to low ponytails, another classic hairstyle for weddings, it is the ideal complement for the modern bride; just imagine a sleek gown with a simple silhouette, a perfect high ponytail with some added fullness from a ponytail extension, and an amazing cape instead of the traditional veil. Simply delightful.
Messy updo. And what about a bride who does not want to be sleek or classic? Well, you can always go for the messy look, a look that lies between the edge of your usual morning look and a carefully made updo. It is the perfect companion for a beautiful head accessory such as a sparkly or classic hairpiece.
Sleek bob. Perhaps a bob has been on your mind for months, but you are simply not convinced of how it will actually look on you, and once you cut your hair, there is no coming back for months or even years. If you want a stylish bob as your bridal look, you can order a human hair wig with a dreamy bob without touching your natural hair.
Reasons to wear hair extensions on your wedding day
Hair extensions are your best friend; they will help you with fullness for your hairstyle; if you are a bride with thin and low volume natural hair, hair extensions can help you create the illusion of a thicker and fuller look. And pretty much any hairstyle looks better when you add hair.
If you have short hair, your hairstyle possibilities are not that many, and if you were dreaming with a classic bun or a natural and long wavy hair, well, your dreams might not come true unless you find a way to make your hair grow inches in a couple of months. Here is when natural hair extensions come in handy.
And finally, the biggest reason to wear hair extensions on your big day is that it will give you many possibilities; you will not be limited by the length, thickness, or even color of your hair. And having the freedom to choose the hairstyle you prefer without limitations is priceless, especially for a bride.
Wigs for your wedding day?
What if you are looking for a completely different style for your wedding or you simply do not want to deal with your hair on such an important day, you can check out our wig shop and find many ready to go styles that can change your hairstyle without having to touch your natural hair. You can go for a different color, length, or type of hair, and possibilities are endless when you wear a beautiful and natural-looking full wig.
Wigs are ideal for the unconventional bride and the traditional bride. It is a great option if you decide to dye your hair green and you want to rock your natural hair color for your formal photos. It is also a great idea if, for some reason, your hair is not as long and healthy as you wished it was; having a wig will quickly provide hundreds of options for your bridal hairstyle.
And if for some reason you waited too long to dye your hair, or you went to a new salon. Things did not go as planned regarding your hairstyle or color; remember that you can always come and visit our wig shop, which will be full of options to make you feel and look like the bride you always dreamed of being.
We hope our information has helped find the right hair extensions or wig for your upcoming wedding. And remember that your wedding day is a day in a lifetime, and you should look and feel comfortable and confident; we are here to help you with our many options for your bridal hairstyle.