Hair extensions are fantastic whether you need a quick makeover for a special occasion or a total change of look in a matter of hours. They're also wonderful for assisting you in transitioning from short to long hair, whether you're growing your hair out or simply want to switch it up.
If you have a short, harsh haircut, transitioning to extensions can be difficult, and integrating your human hair extensions perfectly with the rest of your hair can be difficult.The reality is that adding extensions to short hair is a relatively simple procedure; simply scroll down for a step-by-step tutorial on how to apply hair extensions to short hair.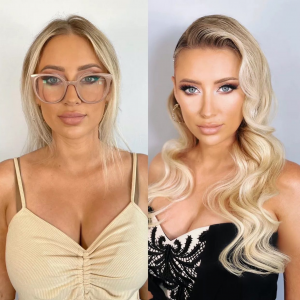 Take the following into consideration before adding extensions to short hair:
Before you start clipping in extensions with short hair, make sure your natural hair is at least 3-4 inches long. This is because the clip-ins must be applied directly under your hairline, and you must be able to cover them with your hair to avoid their peeking out.
When looking for the best clip-in hair extensions for short hair, make sure to choose the proper color, since this is a crucial step in achieving flawless blending. If you can't locate a hue that matches your hair exactly, buy a lighter one and then dye it to match.
When looking for the best hair extensions for short hair, the weight of the extensions is also crucial. Even if your natural hair isn't particularly thick, the real human hair extension set you intend to get must be at least as thick as your own. Choosing the thickest extensions will help to hide your blunt ends and make the transition from your short hair to the longer parts of the extensions as seamless as possible.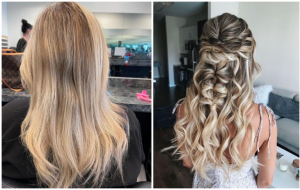 Braid your hair at the bottom
We recommend that you pin the hair from the nape of your neck away before clipping in extensions in short hair. This is an excellent technique to conceal the shorter parts that always tend to poke their way through the natural hair clip-ins if they are left loose. To do this, take a portion of your hair and braid it, then put it in place using bobby pins. The first human hair extensions weft from your set will be clipped here.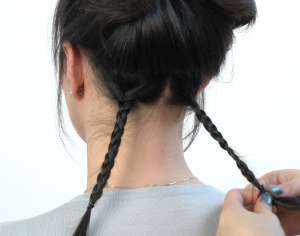 Prepare the extensions in advance
Before you apply for your clip-in natural hair extensions, it's a good idea to style them. If you prefer a curl, simply use a curling iron to add texture to all of the human hair wefts, or straighten them with a flat iron if you like them straight. Each weft will match the style of your natural hair and blend in faster if you do this before applying it.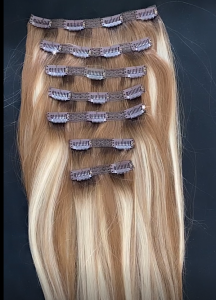 Determine where the wefts will be placed
Because everyone is different, you must figure out what works best for you when it comes to weft placement. Make sure your hairpieces for short hair stay in place by teasing your roots and using a texture hair spray to keep them in place. Typically, we recommend starting with the three clip wefts at the bottom and progressing to the four clip weft, which fits best in line with your ears.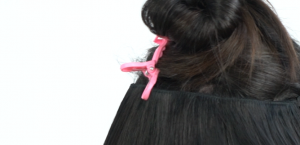 To add volume to the sides, use the smaller hair extension wefts. The key to mixing clip-in extensions with short hair is to strategically arrange the wefts so that they blend in with your natural short hair and cover as much of it as possible. This implies the hair extensions for short hair will be a little higher on your head than usual, which is perfectly OK. You should be alright as long as there is enough hair on top to cover the wefts. You should also style all of your hair at the same time so that the blunt ends blend in with the longer strands.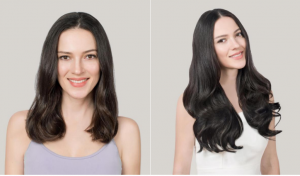 You should be able to rock your lengthy hairdo without anyone recognizing you're using short hair extensions if you followed the methods above.
When it comes to clip-in hair extensions for short hair, there are a few different strategies you may use to make them look natural.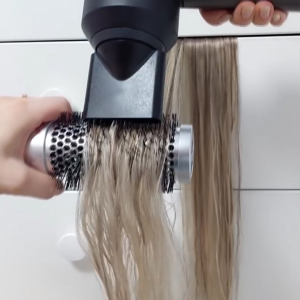 Consider cutting and stacking the human hair extensions to aid in the blending process. If you don't feel comfortable cutting your own clip-in human hair extensions, make an appointment at your favorite salon and have an expert trim them to match your hair properly.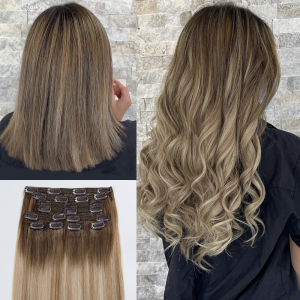 Clip-in hair extensions will rapidly cover up any terrible haircut and give you long, attractive locks. Nothing is impossible, so start taking advantage of hair extensions and their ability to instantly transform any style!