We are excited to announce the two new human hair toppers! Top Luxe and Top Secret. As one of the most undetectable types of women's hair toppers, they are meant to fill your luxury hair piece box. Get ready to be amazed now!
Top Luxe
Base size and construction
This topper boasts a luxurious and natural-looking silk top, expertly crafted to flawlessly blend with your own hair. The whole base size is 7″ x 7″ which provides ample coverage for larger areas of concern, while the undetectable silk top allows for versatile styling options.
The ultra-soft virgin Remy human hair strands are delicately hand-tied to the base, ensuring an unbelievably realistic appearance and comfortable fit, which makes it perfectly suit for women with hair loss or thinning hair. This topper offers unparalleled coverage and volume in just minutes.
Color and Length
The new color 667R Iced Latte Macchiato features a light base color with cool undertones, reminiscent of icy tones or a chilled latte. The shade incorporates a blend of ash blonde and platinum highlights, creating a multidimensional effect that catches the light and adds depth to your hair.
The coolness of the color helps to counterbalance warm undertones, giving your hair a fresh and crisp look. It often complements fair to medium skin tones, providing a striking contrast and a radiant glow. The cool iced blonde hue has a sophisticated and edgy feel that adds a touch of elegance to your overall appearance.
The hair length of Top Luxe is 16" from the crown to where the hair ends.
Who will it fit?
Top Luxe would be the best hair topper for any woman with the cool tone blonde hair and darker ashy roots and who just starts to experience hair loss or hair thinning on the top for a while. It will help cover the thinning hair on the top and give amazing hair volume and super soft hair to achieve an even more stunning hair look in just seconds.
7″ x 7″ Top Luxe | Silk Top Human Hair Topper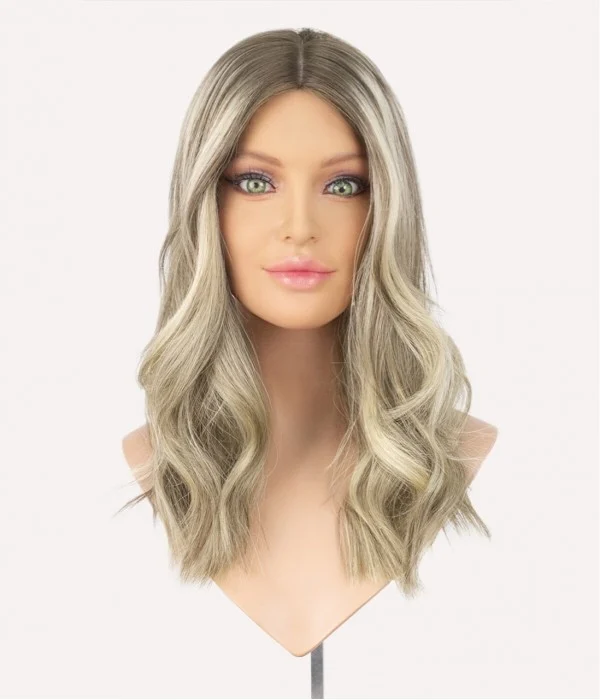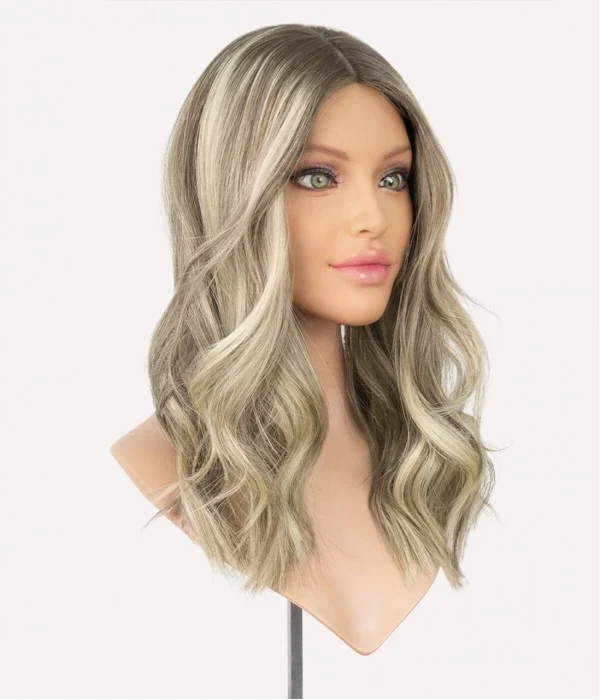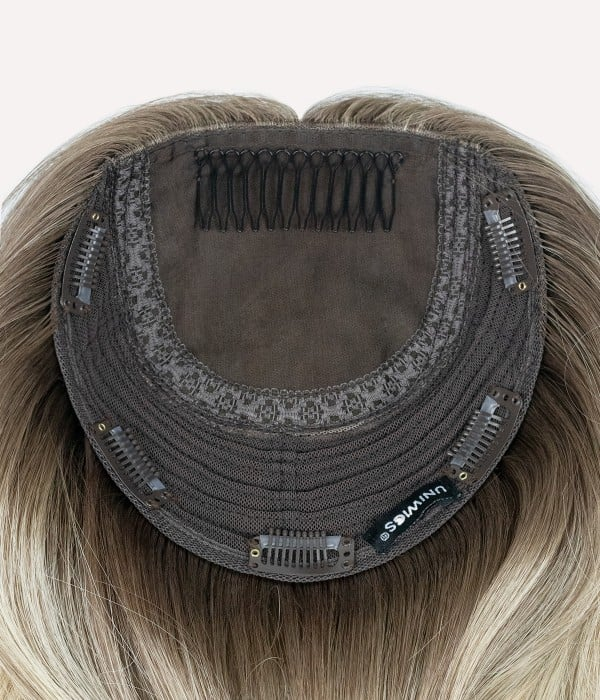 Top Secret
Base size and construction
A bit smaller than Top Luxe, this one could be called the little sister of this new silk top family from UniWigs. It has a 6.5"X7" big base size. With the realistic silk top in the center, you are allowed to part your hair anywhere in any direction or just simply pull it all toward the back and it will appear the same look as your own hair. There is neither "shorter hair" around the base nor the visible knots on the hair-topper scalp. This is made of high-quality pieces and crafts.
Color and Length
You can get any color you like from UniWigs to this topper. Whether it's classic and sophisticated brunette color, or natural-born black hair, or light and fresh highlighted blonde, Top Secret gets all covered. There are two lengths you can get on this luxury piece: crown to end 12" or 16". It's subtly layered at the end of the hair so the hair won't look heavy.
Who will it fit?
From the beginning stage of hair thinning to the medium stage of hair loss, Top Secret got you covered. It helps cover the scalp from the front to the crown. Left to right: one inch above the ear to the same position at another side.
For those who pursue perfect scalp-looking hair toppers, congratulations you've found it here. It gives you these benefits as below.
Keeping you away from a sunburned scalp. It got three layers of the base that not only appear as the most seamless top but also prevent r own scalp from being exposed to the summer sunlight. It becomes a natural barrier between your thinning hair scalp and the sunlight and helps decrease any potential damage that may be caused by direct sun heat.
Helping you save time on styling and disguising natural hair look. Top Secret is designed to mimic the appearance of natural hair, making it easier to style and blend seamlessly with your existing hair. They can be a convenient choice during summer when you may want a quick and effortless hairstyle without excessive skills and management on a natural scalp-like look.
6.5″ x 7″ Top Secret | Silk Top Human Hair Topper