Whatever the circumstances, at least when it comes to beauty and fashion, you can always bank on one thing. Everything that was once old will be transformed into something fresh. Take, for example, tie-dye, scratches, super-shiny lip gloss, one-shoulder blouses, and the '80s power shoulder, which is still making a significant resurgence.
If you've spent any time online in the last several months, you've undoubtedly seen curtain bangs, a trendy and flexible hairstyle. The TikTok youths are all obsessed, and rightfully so. Consider what would happen if your regular, straight-across bangs extended out to your cheekbones and were split down the middle, giving an endlessly stylish and low-commitment face-framing appearance.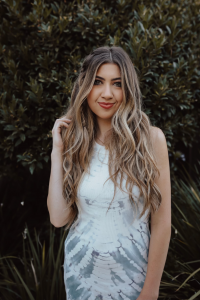 This new style is enough to send any of us scurrying to the local salon, especially with the current '70s hair renaissance, see: shags and mullets. What better moment than now? With the masks coming off and autumn approaching, a fresh look is in order.
I needed to hear what those geniuses we call hairstylists thought before I took the plunge. Before I officially joined the curtain bang club, I sought advice from Franck Izquierdo, co-founder of IGK Hair care, Ashley Streicher, celebrity stylist and R+Co collective member, and April Kayganich, stylist and resident curl specialist.
Should I Get Curtain Bangs?
The good news is that this trend is inclusive of all hair textures and face shapes. Kayganich adds, "I love curtain bangs for textured hair." "When the hair is pulled up or worn down, it provides such a charming fringe around the face."
If you think your facial shape isn't suitable for bangs, reconsider. "Curtain bangs lend dimension to round faces, but you can wear them no matter what your face shape is; you just have to style them differently for each," explains Izquierdo. "If you have a strong jawline, it can also help soften it a bit."
If you have thin or fine hair, it's a great way to add several pieces of hair extensions. https://www.uniwigs.com/103-hair-extensions
Maintaining the right length after obtaining those sought-after face-framing blended layers does require some maintenance. "The greatest method to keep a fantastic curtain bang is to keep it at the perfect, most effortless length, which involves trimming it frequently," Streicher explains. Prepare for some upkeep, whether it means grabbing a pair of hair scissors or going to the salon for a trim.
Streicher advises this style for anyone with the considerable length for the greatest results. "With longer hair, I usually propose a curtain bang since it creates a delicate 70's impression," she says. Of course, hair is supposed to be experimented with, so just because you have a shorter bob doesn't mean you can't chop it off.
How to Style Curtain Bangs
Curtain bangs, like any other cut, require some styling. "Investing in the proper items first and foremost is the smartest thing you can do," adds Kayganich.
Kayganich uses a diffuser on textured hair to give the bangs a lot of volumes. Also, a little finger-coiling wouldn't hurt! Unlike typical bangs, though, curtain bangs frequently look better when the styling is less flawless.
"To create a rock-undone effect with curtain bangs, simply rough dry them. To open the frame and face, use a tiny round brush and dry hair with your brush forward, not under, for a more classy look "Izquierdo suggests. The rocker-chick mood can be enhanced with a nice texture spray.