Often a result of aging, hair thinning, baldness, or receding hairline also occurs due to medical conditions, hormonal changes, or heredity. With around 80 % of men and women suffering from this problem over the world, they cease to find a solution. To cover hair loss in different areas (on the sides, back of your head, or crown), many people consider using wigs or extensions. Yet, recent trends conclude another worthy option, a hair topper that makes you fabulous with every look. With the 70's fashion back in style, Uniwigs.com recommends your hair topper with curtain bangs today!
What is hair topper with curtain bangs?
For those who are new to the terminology hair topper, let us discuss this briefly before moving on to know about the hair topper with curtain bangs. As the name suggests, a hair topper is a hairpiece that helps to hide thinning or balding at the top of your head or crown.
Not only does it deals with hair problem, but the hair topper also adds volume and length to your hair. You can find multiple shapes and sizes for hair toppers, yet the construction is relatively the same. Talking about hair topper with curtain bangs, it covers the top of your head as well as the forehead.
Uniwigs.com offers the best hair toppers with curtain bangs in various textures, sizes, colors, and shapes. Choose one that blends perfectly with your real hair, providing a natural-looking effect. Generally, the best hair toppers with curtain bangs made with human hair are considered the best instead of synthetic ones.
Buying Tips for Hair Topper with Curtain Bangs – Find the Best
Hair topper, as discussed before, comes in various options for you to choose from, such that you find that helps you match your hair type. Here are some tips to consider while choosing your best hair topper with curtain bangs to get the most flattering and natural look ever!
Tip #1 – Choose the right topper for your bald area
Tip #2 – Choose a quality hair topper, preferably made of human hair.
UniWigs offers a classic collection of best hair toppers with curtain bangs to help find the one that matches your choice. Check out a few of our exclusive sales for hair toppers with curtain bangs below!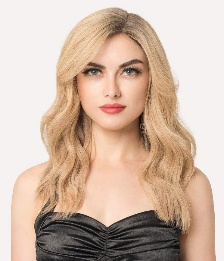 Are you struggling with advanced and progressive hair loss? Courtney has a large 7" x 8" base size to cover your bald spot completely, providing additional volume and length. Courtney features a mono part to the slight left of the topper with a fabric cap. Get a natural off-center side part with a hand-tied mono part area, spanning .5" in width and 4" in length.
Moreover, the hair topper comes in pre-cut curtain bangs so that you can wear them straight away. All in all, Courtney is a compelling choice with a budget-friendly and good-quality hair topper. Made from 100% human hair, you can style your topper with heat styling tools to get your desired look for the day.
Do you want an instant volumizer? Instant Clip in Human Hair Curtain Bang is great for adding some extra volume to a specific area of your head. The curtain bangs feature a fabulous look that goes with every outfit. The hair topper features a cover-up patch for those who like to cover up the small bald spots on their head. Simply clip in on the top of your head, right under your own hair, to get an instant root lifting look.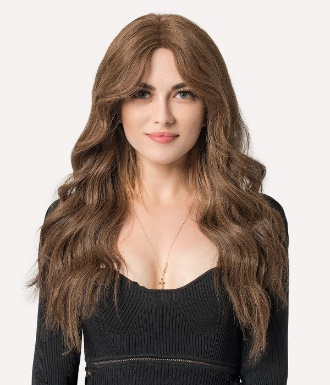 Hera with Curtain Bangs features a 10″x10" super large base. Get entire crown coverage and amazing volume with this 100% Remy human hair top piece. The hair topper blends well with your real hair to provide a supremely natural look.
Lace Front is virtually invisible, creating a natural-looking hairline, offering you off-the-face styling versatility and contours perfectly to the shape of your head. Moreover, the fashion curtain bangs add a statement to your outfit! The monofilament top creates an illusion of natural hair growth wherever you part your hair.
Another feature includes a wefted back that provides a larger base and more hair volume. Comparatively expensive than the other two best hair toppers with curtain bangs on our exclusive sales. Perfect for concealing heavy hair loss with additional length and volume makes, it a great substitute for a full wig.
Steps to Install Hair Toppers with Curtain Bangs Properly
Start by opening all the clips present inside both ends of the hair toppers.
Next, decide where to position your hair topper with curtain bangs so that it properly covers your bald spot. Next, adjust your hair accordingly to blend naturally.
First, secure your front clips, then run your finger through the length before clipping the back ones.
Style your hair to compliment your dream look.
Steps To Wash Human Hair Topper Properly
Use cold water to wash your hair topper. Make sure it gets from base to tips.
Take a proper amount of mild shampoo and rub it on your hands. Then, evenly apply it over your hair topper.
Do not massage, rub or twist the product over your hairpiece, just apply it smoothly.
Rinse well from base to tips with cold water.
Steps to Condition Hair Toppers with Curtain Bangs Properly
Take a small amount of hair conditioner into your palm, and then gently apply it over your hair topper.
Rinse the condition with cold water.
Squeeze the excess water gently without rubbing. Then, use a towel to blot hair lightly.
Place your hair topper on a wig stand and let it dry naturally.
Bottom Line
Hair toppers with curtain bangs are worth considering if one knows how to choose the right one and apply them properly. Even though it is easy to apply and remove, we recommend seeking help from your hairstylist along the way. We hope that this article helped you find relevant information about hair toppers with curtain bangs. Visit our website to ask any question that troubles you.
Do not forget to check out our exclusive sales for hair toppers with curtain bangs and shop at UniWigs.com to get a new one!