One of the worst nightmares of people is the shedding of hair. When you look in the mirror, you dream of a person with a thicker, bouncier, and healthier head of hair looking back at you. To live the goddess-like hair dream, many investments are made in volumizing shampoos and hair products every year. These products improve hair condition a bit, but their results are still far from your dream hair.
With hair loss comes an uninvited guest, anxiety, and worry. Due to increased self-doubt and insecurity, people start avoiding social gatherings altogether. It's time to put your stress at rest. Whether your hair is thinning from alopecia, cancer treatments, PCOS, or genetic abnormalities, there is a solution.
The best hair extension for fine and thin hair
Halo extensions are specifically designed for people with thin hair and are considered the best in this regard. The halo extensions are unparalleled for adding healthy volume, giving a natural look, and making hair look fuller, luscious, and glossier. Free from any adhesives or clips, these extensions feature a thin and invisible wire that rests on your head comfortably.
The halo hairpiece holds its place on your head safely with the help of a wire. It's best to choose the same lengthened extensions as your natural length. You can conveniently add 4 inches to your natural hair length but don't go overboard. The excessive weight might become heavier to carry. However, if you're getting layers added to your hair professionally, longer lengths can be easily applied.
Halo hair by Uniwigs weighs from 90g to 200g making it super lightweight and easy to carry. These unique hairpieces come with two installing systems, making it so convenient, the clip-in and Halo method. Extensions are composed of two materials. Synthetic fibers are heat-unfriendly but extremely light and comfortable. On the other hand, human hair extensions give a natural look and can be straightened or curled just like ordinary human hair.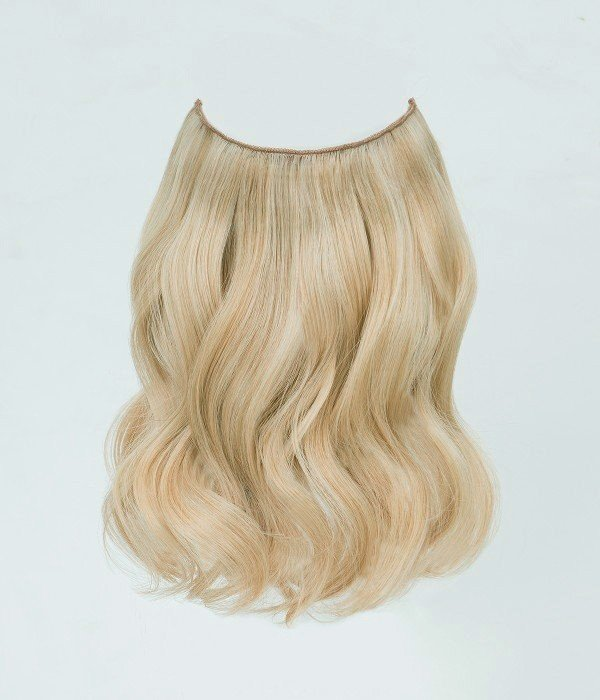 Can you use other types of hair extensions?
When it comes to extensions, there are broadly two categories. The first is temporary hair extensions which offer easier application and are easy to DIY. The second is permanent and can only be installed professionally. Halo extensions are a part of the temporary hair extensions clan.
The clip-in method is another quick way of achieving a voluminous hair look. These extensions can be clipped into the hair using small and invisible hair clips. The clips are attached to the hair follicles. For that reason, while taking it off, clip-in extensions can sometimes pull your hair out. This process can cause friction and breakage of hair if you're not too careful.
Another temporary fine hair solution is tape-in extensions which feature tapes instead of clips. These are as effective and time-saving as clip-ins. The only drawback is that you should replace tape-in hair extensions at their recommended time. If they are not replaced, the adhesive from tapes may cause drying and thinning of hair over time.
That's why the most recent type of extensions, "Halo extensions", are the number one recommendation for fine hair. It's important to note that the above-mentioned temporary options work efficiently if utilized with some care and gentleness. For people who tend to be clumsy or looking for the safest choice, Halo is the way to go.
Benefits of Halo extensions
Nobody looks forward to spending hours fixing their hair every single day before leaving for work. Halo extensions contain one piece only, which only takes about 10 minutes to attach to your hair. Now, you can save up 15-30 minutes in your morning.
Permanent hair extensions get worn out in a short amount of time because you keep them on constantly. As you sleep in them, sweat in them, shower with them, they last a short span of 6 months at max. Halo and clip-in extensions, on the other hand, last longer as you take them out every night.
As Halo extensions do not attach directly to your hair, they do not cause any damage. What this means is that you can grow your hair out and continue to maintain it.
How to wear Halo extensions
Wearing the halo extensions requires only a rat tail comb and Uniwigs hairpiece. After that, follow the subsequent steps to achieve a thicker and fuller mane instantly.
Step 1:Make sure your natural hair is dry and free of tangles. Comb through the Halo as well.
Step 2:Start by sectioning the top section of your hair at the crown and tying it into a bun. Leave at least a two-inch section of the front bits of your hair to make your extensions blend seamlessly with your natural hair.
Step 3:Choose the wire length that fits your head perfectly. Place the wire over the bun and an inch back from the forehead. Your extension should hang securely below your occipital bone.
Step 4:To hide the Halo let your top bun down. To make it look more natural, take the rat-tailed comb and pull strands of hair over the wire till you can't see the wire anymore. Lastly, brush through your hair with caution and live your luscious hair dreams.
Conclusion
When shopping for hair extensions, there is a list of things that need to be considered. Opt for something that doesn't cause further damage and breakage of your already thin hair. Hairpiece that makes your hair look full of volume and gives a realistic appearance. You should make sure to invest in a product that promises longevity with good maintenance. Considering all of these points, we can confidently declare that Halo extensions are the right choice for fine hair.
Uniwigs offers a variety of Halo and clip-in extension products designed according to the needs of individuals suffering from thin hair. These hairpieces can be curled, straightened, or styled without the risk of causing damage. Finding pieces that match your natural hair color and style is a no-brainer from our wide range of extensions.