Who cares that these beautiful precious strands are not grown on your scalp? They need equal care and attention to maintain their quality and shine – after all, you have paid for it! Whether you want to add up a nice volume in your hair, want to increase its length, or just wish to switch to a new hairstyle this summer, hair extensions are a great option. Clip-in hair extensions are a great source of enhancing your entire personality by their sleek and unique look that nobody could deny. An excellent way to do your clip in hair extensions maintenance is that take care of it just like your own hair. Avoid frequent usage of products containing harsh chemicals and strong smells, keep them away from frequent heat exposures, and much more because by following a proper care and maintenance routine you can easily make them last longer with good health.
Few important tips of clip in hair extension maintenance
Here are a few key tips to make them last longer in their original quality without getting dull and dead-looking strands.
Tip # 1 – Avoid Chemicals
The more you avoid harsh chemical products, the more they will retain their shine. Don't forget that they are dyed to match your original hair color, so a color protectant shampoo and conditioner must be used which would not harm its dyed color. For human-made hair extensions, only stylist-recommended products must be used that are gentle enough to keep them fluffy and manageable.
Tip # 2 – Keep them away from heat
Overuse of straighteners and curlers that require heat, would make its lifespan drastically low. Remember, hair extensions are not a part of your scalp and they can never be nourished again by oiling them, if once damaged. They get irreversible damage through heating tools. So, it's recommended to use heating tools as low as possible to make them last longer, instead use a texture spray as a heat-free styling option.
Tip # 3 – Never sleep while wearing it
The most important tip to avoid tangling clip in hair extensions is to "Never sleep while wearing it" no matter how tired you are or how late you have gone, once it gets tangled – it will start breaking and damaging its beautiful strands. Always remove the clip-on before sleeping to avoid clips breakage and unnecessary tangles. Or if you are afraid of losing your desired hairstyle once you remove the extension, then wear a sleep cap or use a silk pillow cover to avoid frizz and tangling.
Tip # 4 – Minimum washing
Minimum the washing is maximum would be its life. If you are using clip-in hair extensions then do not wash them more than once a month, because they do not need frequent washing. Harsh chemicals and hard water could vanish its shine and softness leaving behind a frizzy, brittle, tangled, and dull hair extension.
Tip # 5 – Comb gently
Always remember to be gentle while brushing and drying them. Start to brush them from the ends and gradually move all the ways towards roots. Always use a wide-toothed comb to detangle your hair extensions and avoid breakage. The more you brush it gently, the lesser will be breakage and shedding. Keeping good care of them would increase its life span making a nice worth of your money.
Tip # 6 – Avoid coloring
Coloring a hair extension might seem very easy but, it's not! It's better to make it done by a professional hairstylist to achieve your desired color in one go without getting any hassle of damage. Because attaining your desired shade can be difficult without taking help from a professional.
Few amazing clips in hair extensions
1.Audrey | 7 pieces classic clip in hair extension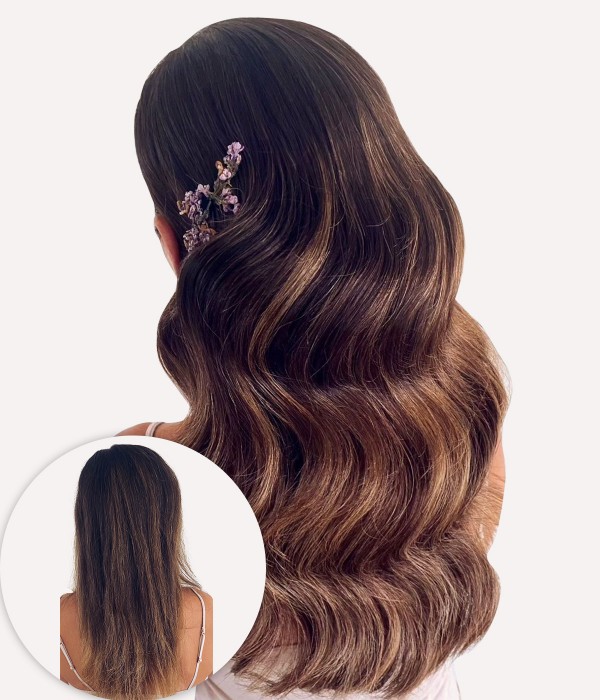 This classic fabric stitched piece of hair extensions adds a huge volume to roots of thin looking hair that have frizzy and brittle ends that look almost dead. It is made up of 100% Remy human hair that is considered the best quality hair for extensions so far. It is most suitable for hair with a length of 12″ to 20″ and with fine to medium denser hair.
2.Journey | 7 pieces classic clip in hair extension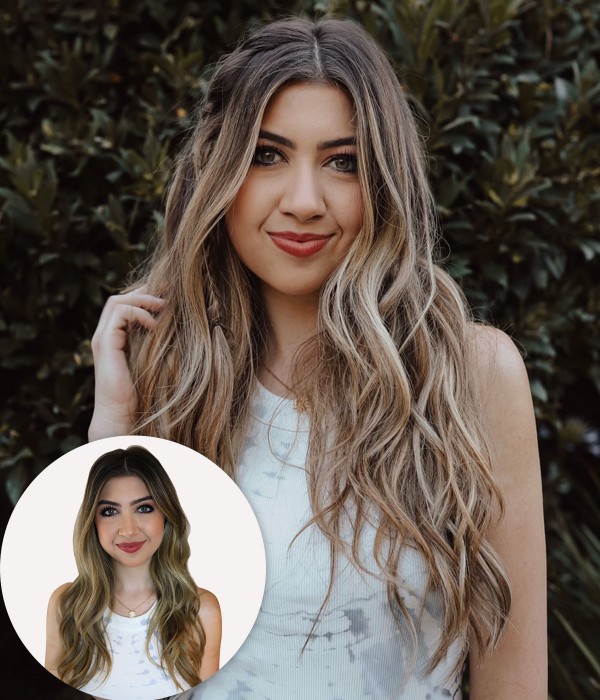 It is the easiest to use a clip-in hair extension that includes 7 fabric stitched pieces to add volume to the ends of hair to make them give the appearance of fuller and longer hair in a snap. The journey is made up of 100% Remy human hair that can be freely colored and styled in any of your favorite hairstyles. It is best suitable for girls with a length of 16″-24″ of hair with a density of medium to thick hair to properly show off its beauty and sleekness.
3.Ester | 10 pieces invisible clip in human hair extension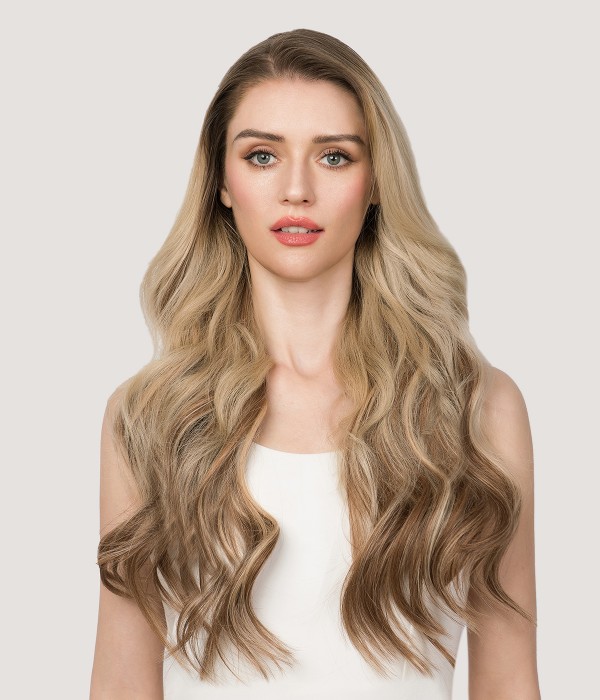 A type of extension that is known as an invisible hair extension or seamless hair extension that is bonded with silicone weft to completely blend with your hairline and give a unique natural look. Ester can quickly transform your entire look to make you more attractive and presentable with a feel of fuller and healthier hair. Ester is made up of 100% Remy human hair that can be freestyled and dyed in any of your favorite shades. These clip in hair extension's maintenance is really necessary to keep them in their original shape.
4.Cecilia | 5 pieces invisible human hair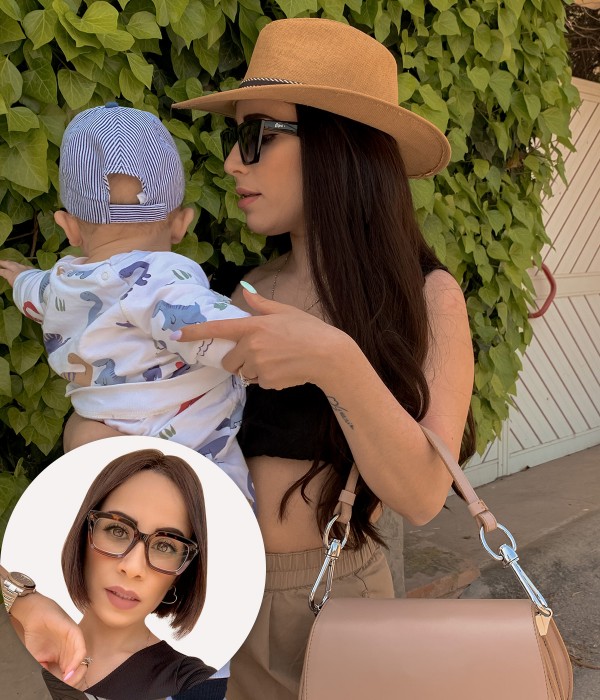 The 5 pieces clip-in hair extension looks ultra-invisible when fixed properly to blend with the hairline. Its silicone weft lay completely flat against the scalp. It is the best suitable for ladies with an approximate hair length of 14″-22″ and fine to thick hair density. The clip is attached to it to make it an easier fixing extension for a quick look renewal.
Conclusion
To avoid frequent breakage and dullness of a hair extension, a few tips are given to you so that you can make the worth of every penny spent on these human hair extensions by using them for a maximum period. Lesser heat usage, lesser coloring, gentle brushing, and no chemicals usage are a few key tricks to maximize their life and to have a proper clip in hair extension maintenance routine, as well as never blow-dry your Hair extension, prefer air drying to avoid getting them hard, dull, and more vulnerable to breakage.