Hair extensions are the best friend every hair lover needs. They are something every woman ought to have as part of their hair collection. We were all very excited about the new weave styles that were coming in when weaves were very common. But then came the game-changing clip in hair extensions. Why do we say game-changing? Well, the answer is written all over the products, their qualities are extraordinary. They are light in weight and not time-consuming in that you can easily install and remove them within a few minutes. They also come in various shades and this means people of all hair colors are accommodated, you can either go for a shade the same as your hair or you can choose a different shade to act as a highlight. Winter is here and once again we are making it our priority to provide you with some of our stunning wavy hair extensions to try out this winter. We pride ourselves in the fact that all our hair products are of the best quality, so if you are concerned about the quality of the hair, we got your back.
1. Aurora 18″ 220g 5 Pieces Classic Clip-In Synthetic Wavy hair extensions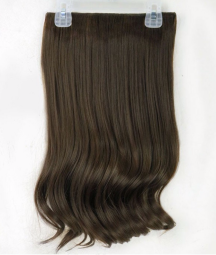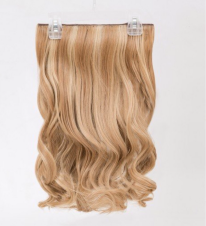 Aurora has simple classy loose curls that bring the volume you need to give the impression of high density. This makes it suitable for people of all face shapes as it naturally helps to frame your face flawlessly. Aurora comes in different colors which comprise natural black, dark brown, cinnamon brown, honey blonde blend, and white blonde. All these shades are perfect for winter. The white-blonde and honey blonde blend give that fairy tale theme in snowy areas, they can be good for a Frozen-themed look. Natural black, dark brown, and cinnamon brown are perfect for adding volume to your hair and also acting as a highlight. Cinnamon brown is recommended if you want to achieve a warm look. It is about 18″ long and it is made up of heat-resistant synthetic hair, you can try to create some tight curls if needed or you can simply refine the original loose curls. Complete your winter look with Aurora.
2. Tania 22″ 260g 5 Pieces Classic Clip-In Synthetic Wavy hair extensions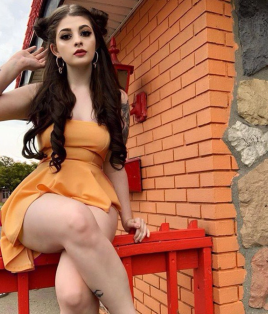 This hair extension is ideal for people with 14″ to 22″ inches long hair. The colors are all winter shades, it can be found in off black, cinnamon black, and white blonde. What a way to switch up your look this festive season? The off-black hair extension would be perfect for someone with the same hair color so that it only acts to add volume to your hair. The good thing is that the roots of the hair extension have a high density of hair to help with this. Try out different styles with cinnamon brown and white blonde as well. You can install it in a way that kt looks like a peek-a-boo highlight or you can also clip them in and braid just to show off these beautiful shades.
3. Sophie 16″ 140g 10 Pieces Invisible Clip-in Remy Human Hair Extensions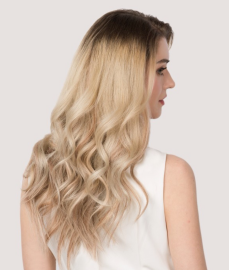 Sophie has 10 pieces, how amazing is that? If you have short hair you have to get yourself these invisible clip-in Remy human hair extensions. They are ideal for a wedding or party with friends. Due to the easy installation and removal of these hair extensions, you might as well just rock them every day. The hair is heat friendly so get your curling tools and create some lovely curls to increase the volume of your hair.
4. Ashley 20″ 160g 7 Pieces Invisible Clip-in Remy Human Hair Extensions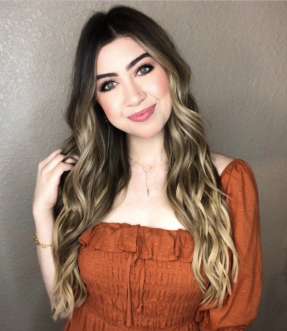 The liberty to be able to do any kind of style without having to damage your hair is every lady's dream. Ashley invisible Clip-In Remy Human Hair Extensions are that hair accessory that allows you to do that. It is made out of 100% Remy human hair, you can curl it as you will or even dye it when you desire to change to another wavy winter shade. Ashley has a total of six different shades to pick from and the range is wide, if you would like to go for lighter shades you can go for the blonde and give that illumination to your appearance. Turn heads this winter with these beautiful shades.
5. Selena 22″ 5 Pieces Classic Clip-in Synthetic Hollywood Wave Extensions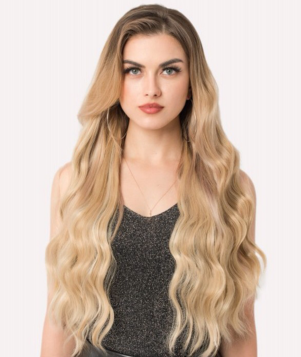 Selena has a wide range of shades. They include black, light natural black, dark brown, truffle brown, cinnamon brown, white blonde, and honey blonde. Suitable for people with thin to thick hair, this hair will surely change your general appearance. Pick out some unique shades this winter and experience the joy of looking expensive at a low cost and in an instance.
6. Abigale 20″ 200g 10 Pieces Classic Clip-in Remy Human Hair Extensions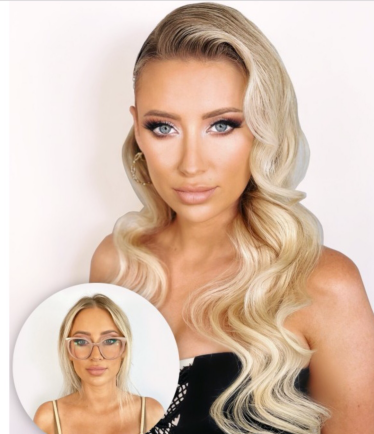 Abigale is the definition of total transformation. Enhance your hair length and volume with these top-notch hair extensions. Try out various accessories like hairpins or even braid it out to diversify your look when you desire. It is commendable to choose a color that blends with your natural hair color for best results.
7. Eartha 18″ 160g 10 Pieces Classic Clip-in Remy Human Hair Extensions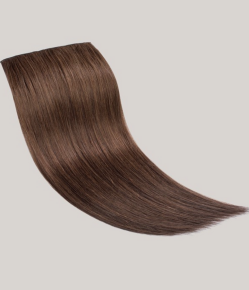 Ideal for people with medium to thick hair. Eartha gives a warm look to your general appearance. Creating loose waves will add to the volume of the hair and elevate your look as well as convey the impression of a full head. Dirty blonde is one distinctive color you could go for if you want to stand out. You are sure to turn heads as you wear this captivating color.
Conclusion
There are so many hairstyle options, but of all of them, you can not go wrong with clip-in hair extensions. So many people are concerned about securing the hair, but it is important to note that all of these clip-in hair extensions come with clip-in pins that are strategically positioned to ensure that your hair extensions won't fall out.