If you are not satisfied with your natural hair or have very short hair and could not make your favorite hairstyles, then wigs and extensions are the best options. The modern extension looks very natural, and even millions of people around us are using extensions, but we do not know.
Your hairs greatly affect your personality, but for women, their hairs have more importance than men. Women are very curious about versatile hair designs, but it is a big misfortune for you if you do not have good hair.
But now everything is in your reach; you can get any of the wigs or extensions for you to make your personality more attractive and charming. Stay here with me to know some stunning extensions ideas for ponytail extension and short extension. I will also share one of the best online platforms to get stunning extensions to make your personality.
Best ponytail extension
A ponytail extension is easy to add thickness and length to your hair. No matter whatever style you want to make, ponytail extensions give such a bouncy, healthy, and voluminous ponytail that looks great. You have the flexibility to put your hair bun or braid to keep the hair extension in for a fuller effect.
You can set ponytail extensions easily at home to make a long pony that you dream of. Whenever you are in a hurry, make ponytail extension styles in a couple of minutes. Here are some stunning ponytail extension ideas.
Riley 20″ Wrap around Synthetic Ponytail Extension
It is an awesome idea to enhance your hair to create a thicker and smooth ponytail extension in a couple of minutes. Riley is an excellent synthetic that is straight and sleek and gives a natural hair look. You can dress up that high ponytail during night parties and dress it down in a low ponytail for the office.
You can easily secure that with a small comb and easily blend your natural hairs. Before applying for that stunning Riley ponytail extension, I recommend you keep your hair straight into a bun style. Wearing that extension is pretty easy; insert your clip at its base and wrap the hairpiece tightly where necessary.
No worry, it is heat-friendly, and its base is suitable to wrap fully. It has resistant against temperatures up to 300 degrees F. If you want to get a long hair extension, its long 20 inches length gives you the flexibility to set your required length.
Ruby 24″ Ribbon Bow Synthetic Ponytail Extension
Get a glamorous style with this versatile and awesome Ruby ponytail extension. Ruby extension comes with bouncy and loose waves that make your extension thicker, and even you can turn it around your neck. If you have short hair and love to have long hair versatile designs, it is the best extension for you.
It is an ideal ponytail extension that is very lightweight, and you can wear it in your everyday routine. You also have the choice to wear a low or high ponytail for a beguiling and subtle look. You can easily secure it with a small comb.
You need to insert the clip at the base and tie its string tightly to secure it with bobby pins. Its 24 inches length gives you greater flexibility to set extension at your required length. Ruby synthetic is a high-quality synthetic that looks like natural hair and offers resistance against 300 F temperature.
Best Short Extension
If you are looking for extensions with short hair, there are plenty of ideas to add weight, length, and thickness to your hair. Short extensions are great because they are lightweight, and you can wear them on any occasion.
You can make versatile designs when visiting a friend's party or can make a favorite hot design when going on a date, or even you can wear them at the office in your everyday routine. For short extensions, clip-in hair extensions are designed to make your personality more charming and attractive. Find some of the best clip-in hair extensions for short hair.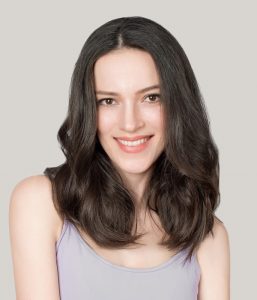 It is an invisible hair extension that is bonded with silicone. You can lay the silicone wefts against your head and even can blend with your natural hairs. It is a good solution to add extra volume to thin parts of your hair. The extension is of awesome quality; you can even color and heat it to make different styles.
This short extension is suitable for women who have thin, fine, and regular hair. They can use that extension to add versatility to their hairstyle to get a new and improved look.
If you have thin roots hair that looks very rough and even you cannot properly shape or style them, it is the best extension for you to try. It is a unique styled short extension that may help you to add volume to your hair roots.
You can add extra volume to thin parts of your hair with a single piece and Remy human hair that gives you options to heat for styling and color them. You can use this extension at different events to look unique and attractive.
Best online platform for women wigs
Nowadays, wigs or extensions have become common, and many extension manufacturers are introducing versatile designs. Just a few are reliable to get extensions from them. It is riskier when you are ordering online because we have seen many extensions users who claim that their extensions were not delivered as were ordered.
So we researched and found Uniwigs as the best and trusted online platform for you to order your favorite extensions from Uniwigs. There are many reasons to choose Uniwigs; some major reasons are given below.
They offer delivery of wigs at the national and international level
Free shipment
You have hundreds of choices to choose in each extension
You can get different colors in the same style and extension
Every new day you will see new and modern styles of extensions
Their rates are very affordable
They ensure the quality as promised
Uniwigshas a very good market reputation
They have your every problem solution choosing wigs and extensions
Customer satisfaction is their priority
You can order anytime from anywhere
Conclusion
Extensions are the best alternative to wigs because they are easy to wear and make you ready in a couple of minutes. There are hundreds of extension ideas for ponytail extensions and short extensions.  You can get the best and versatile extensions from Uniwigs, which offers hundreds of extensions to make them suitable for you. So visit their site to order your favorite extension to make your hairstyle unique and natural-looking.