While the pandemic has sent everyone to stay at home to practice social distancing, hair salons are forced to close for the sake of safety because they are deemed as non-essential businesses. Many people who usually visit their hair salons for all the hair needs take matters into their own hands and decided to try trimming their own hair or handle the gray hair that have been sprouting out. It became apparent that gray hair were not the only hair coloring tasks that people were doing at home. Many were bold enough to experiment with new shades on their hair extensions. A little color won't hurt nobody especially while isolating at home.
The most important thing to having fabulous looking hair and hair extensions is to have matching colors between your own natural hair and the hair extensions. It is also essential to choose a shade that will complement your skin tone too.  This will ensure that the finish look is seamless and natural. No one wants extension joins or color difference that is too obvious. So what is the best way to color match hair extensions at home?  Or how to blend extensions with natural hair?
Read on for some tips on the process to color match natural hair extensions and to achieve the perfect color blend to suit your hair. When purchasing hair extensions online, you would need to refer to a color chart for each hair extension product. This will help you to match your hair shades and compare shades easily. Then you can narrow down the colors by the base and mixed colors, as well as dip dye, ombre and root stretch colors.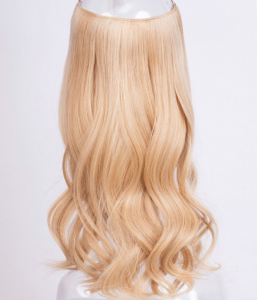 Image from https://www.uniwigs.com/hair-extensions/43180-cathy-18-140g-halo-human-hair-extensions.html
How To Find The Right Color Match?
An important tip for choosing the right color of hair extensions is to match your hair to your skin tone. Many often make the mistake of assuming that all shades will suit all skin types like platinum will complement paler tones, or darker tones to suit richer, warm colors. To determine your undertone, it is best to base it on what jewelry suits you. If silver suits you, this mean that your undertone is cool and if gold suits you better, then your undertone is warm. If you are either, then it is neutral.
Another tip to consider is the shades of the clothes you wear often. If you find that orange, yellow, red or rusty shades suit you, this means that you will suit warm tones such as golden brown, ginger blonde or golden blonde. If you are more suited for green, royal blue or bright pink colors, then cooler tones such as platinum, ash blonde, ash brown or jet black are a better match.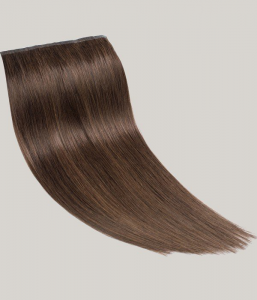 Image from https://www.uniwigs.com/hair-extensions/43187-cecilia-18-180g-5-pieces-invisible-clip-in-human-hair-extensions.html
If you want a color that is close to your natural shade, the best way to find a great color match is to compare it with the mid-lengths to the ends of your hair. This is because the mid-lengths and the ends of your hair will sit on top the extensions and they need to blend more towards the ends than the roots.
If your hair is dyed, then a great way to get hair extensions that would match perfectly is to purchase human hair clip in extensions which can be dyed in the exact same shade at home. This allows you to experiment with different fun and vibrant colors.
How To Ensure Your Extensions Look Natural?
The best way to ensure that your extensions look like your natural hair is to style them the exact same way that you do to your hair. This will ensure that the hair blend perfectly together. Once the extensions are attached, you can use the curling iron to create wavy hair or straighten the lengths for a sleek look. Use the same or similar hair length with layers to achieve a natural finish. If you have short hair, choose weft that can be attached to create layers.
Best Hair Extensions
Regardless of what hair extensions you need to choose the right color to match your natural hair, it is always good to go with 100% human Remy hair. This is the highest quality hair extension that would allow you to style them just as you do to your own hair. If you want to change the look of your hair with a different color in the future, you do not have to buy new hair extensions because you can just color the human hair extension at the same time as your own hair for a seamless look.
If you still have trouble on how to choose the right color hair extension to match your hair, then do reach out to Uniwigs, one of the best wig websites that can help you choose the best color hair extension.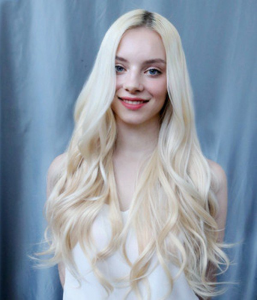 Image from https://www.uniwigs.com/hair-extensions/42957-luna-platinum-blonde-dyeable-clip-in-remy-human-hair-extensions.html
Adding hair extensions to your look is a great way to add more volume, length and vibrancy to your natural hair.