We love wearing hair extensions for voluminous flattering hair same as the popstars. It's not shows as the pictures if someone wear the hair extensions. Popstars always get their hair done by their professional hairstylists. So how to make our hair look like theirs?
Today we are going to take about some hair extension mistakes that you might be making, and we are here to share some top tips to help you get the best blend.
No. 1: Backcomb your roots
Before clipping in your hair extensions,we always recommend backcombing at the roots to give your clips something to hold on to. This is a great hack if you have fine hair and it'll hold your clips in place all day without them budging.
Once you're done backcombing, then you can clip your extensions over the top. And as you can find that the weft will be super secure and isn't going anywhere.
You can do a testing on the right-hand side, the same thing but without backcombing the hair first. Then you can find that the weft is a lot looser and doesn't have as much to hold on to, which is why we much prefer to backcomb your roots first.
No. 2: Giving you a totally seamless blend
Root touch up spray is a great way to mimic your natural root regrowth on your hair extension wefts. This helps you to get a really seamless blend. Especially if you get caught in the wind and the top of your wefts are on show.
If you wear the hair extension pieces without the root touch up spray. If your hair parts, it'll be a lot more visible, this is why it's great to invest in some of this stuff. The weftswill be blended perfectly.
No. 3: choosing the right shade of hair extensions
It's really important that you're not tempted to go for a shade that you want to be, but instead that you pick a shade which is the closest match to the ends of your hair so that you get the best blend.
Don't worry too much if they don't match your root shade. You just need them to match the ends of your hair if you want them to look natural.
If you clip in a lighter shade than the end of your hair, then you can find it doesn't look anywhere near as natural and you can really see the disconnect between your own hair and the extensions.
No. 4: Pick the best length of hair extensions
Obviously you can go for whatever length you like, but when thinking about the look you're trying to achieve, it's good to note that the longer the hair extensions compared to your natural hair, the harder they'll be to blend.
If you choose a right length, you will help to add volume and thickness while the hair looks natural.
If you get a very a wrong length, it doesn't look quite natural.
Usually, we commend two inches longer than your hair.
No. 5: Make your culrs last longer
Don't forget to prep your hair with a heat protectant which will make your hair look shiny if your hair is bone-dry
The first tip is to make your hair in small sections. This will make sure that the heat is evenly distributed on your hair, which will not only make your curls much neater but will make them last way longer too.
The second curling tip is to hold the curls in you hand for five to 10 seconds to let them set in place
before letting them drop. The aim is to get really uniformed, tight curls, so that when you brush them out, they'll still hold their shape to give you effortless waves.
If you take bigger sections, it will not hold the curl. The bigger curls were much heavier, and as they didn't have time to set in place, dropped really quickly one they came off the barrel.
No. 6: Brush out your curls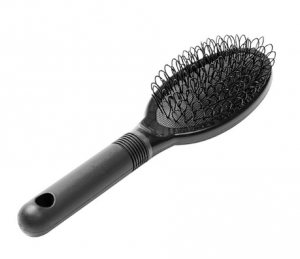 To create a signature waves, you want to brush out your curls using loop brush. The loop bristles on a loop brush are really gentle so they won't pull on your hair and will help to loosen the curls to blend your hair seamlessly into your extensions.
On the right-hand side, we
didn't brush out the curls to show you the difference.
If you don't brush gently or just use your fingers, it's not as well blended and doesn't look as uniform waves.
Non brushed out curls aren't so much of a thing anymore and it's way more on trend to have barely there waves, which is another reason to get on board with this tip.
No. 7: Choose available pieces
The last tip is knowing how much pieces to use and how much spray to use, which is super important if you don't want to ruin all you styling work.
Comparing to use a light dusting of hairspray to hold your curls in place, you can find it will saturate the hair with loads of hairspray.
As much as you might think applying more hairspray will give you more hold, it'll actually way down your hair and make your curls drop a lot quicker.
You should still be able to run your hands through your hair once you've applied your hairspray. And you still want it to look really natural rather than crunchy.
Using way too much product will make it harder for you to brush your hair and could cause damage to your hair if you pull down too hard on your hair extensions.
Above all, it's not super hard, just prepare the tools mentioned and practise, it will be very interesting.
We hope you found this super useful tips and if you have any of your own hair extension hacks, then pop them in the comments and let us know along with any other issues you'd like to know from us.