All hair type is beautiful in its own way but sometimes we cannot help but want to change our look.  Some of us may have mid-length hair or long hair and decide to cut it short and only to experience regret later. A bad haircut or the decision to rock short hair can leave us with regrets.  Or some of us may have short hair but waiting for it to grow back is taking forever.  You miss having long hair because the hairstyles are limited and you are tired of not being able to wear human hair wigs or have updos.  There is just something about long hair that makes it very attractive.
Whatever the reasons, if you are interested in adding some length to your locks, there is hope. For women with short hair, there are a few ways that you can add hair extensions for an instant transformation. Hair extensions are not only for adding length, they can offer more volume and a pop of color too.
There are several factors that you have to take into consideration when choosing the right hair extensions.
The Quality
There are many different brands of hair extensions in the market today and some hair extensions are simply less durable than others.  Natural human hair extensions are more durable than hair extensions that are made from synthetic material. Therefore, if you want your extensions to last you a long time, you should pick a well-known brand that uses human hair, for example, Uniwigs.  Hair extensions that are made from Remy human hair are of the highest quality.
The Length
You also have to decide how long do you want your hair to be.  Do you want shoulder-length or chest-length hair?  There are hair extensions from as short as 14 inches to 25 inches long.
The Thickness 
You can choose thick or thin hair extensions but do keep in mind that getting hair extensions that are the same thickness as your natural hair is the best option.  Thin hair may look like you have damaged hair and having too thick extensions may look obvious.  As such, for best results, you should opt for wefts that are offered just the right thickness to look as natural as you can.
Make Sure The Color Matches
The color of the hair extension is important especially if you have short hair because you would want a color that matches your natural shade.  This will help to blend in your look more seamlessly.  If you choose a color that is too different from your natural hair, it would be easy to give away the fact that you are wearing hair extensions.
The Different Types of Hair Extensions For Short Hair
There are several types of hair extensions available such as tape-ins, clip-ins and halos.  These hair extensions can help to give you the look that you want.  The type of hair extensions to choose from really depends on your preference.  If you are looking for something that is fuss-free, fast and easy to install, then clip-in hair extensions are the perfect solution.
Clip in hair extensions is hair wefts that come with clips attached.  You can simply take the extensions and clip them onto your hair by yourself, without the need to go to the hair salon.  Clip-ins are perfect for those who want thicker and longer hair instantly without any long-term commitment and they are also very affordable. The best clip in hair extensions are those that blend in well with your natural hair and also fit into your lifestyle.  If you are an active person who loves working out, clip-in hair extensions are the best as they can be taken out easily and then clip back in when needed.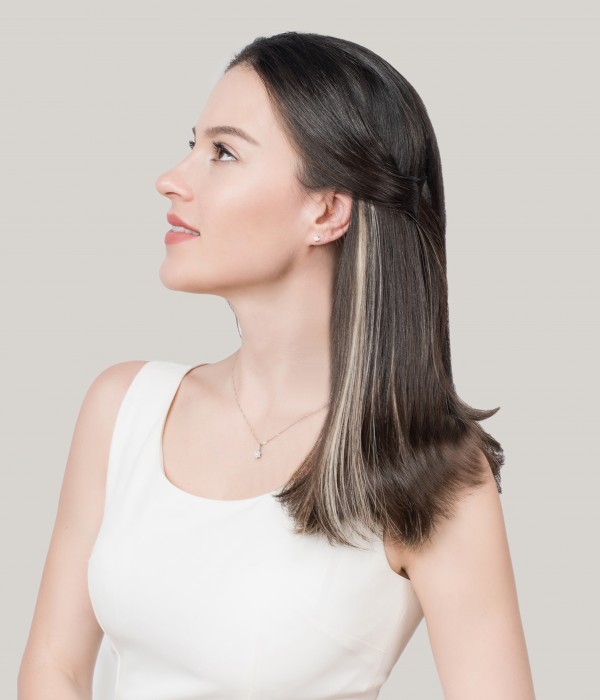 For the best chance of concealing a clip-in hair extension on women who have short hair, it is recommended to have at least four inches of hair so that it will blend naturally. For those with less, you may experience some trouble hiding the wefts.  As such, it is better to wait for your hair to grow a little longer before getting the clip hair extensions.
Check out this video on how a clip in hair extension would look if you have short hair.
Women with short and thick hair would need to use a thick and heavier set of hair extensions for adding lengths such as this Ester 18″ 160g 10 Pieces Invisible Clip-in Human Hair Extensions.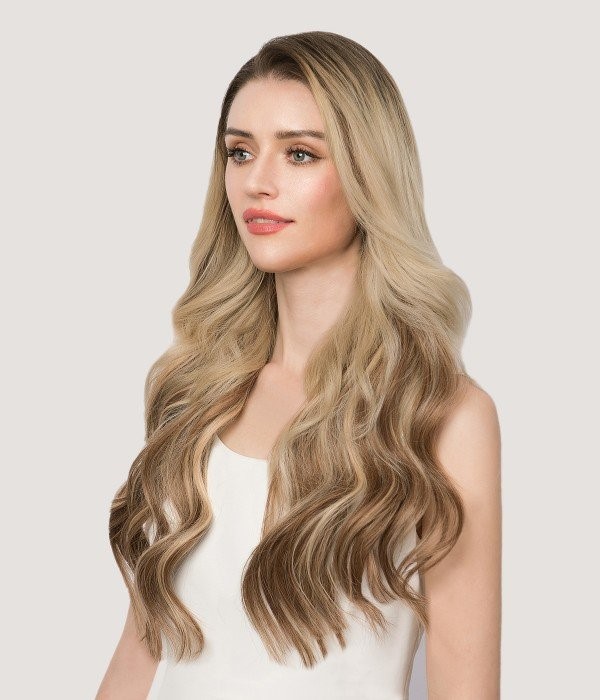 How To Blend In Hair Extension With Short Hair?
Obviously, women with short hair will have to put in a bit more effort in order to have their extensions blend in naturally, compared to someone with long hair who is simply looking for volume instead of length. If you have a blunt cut, you would need to trim or cut your extensions or your own hair so that they match and fit you better. Choose a thicker hair extension so that they can blend the transition between your ends and the extensions too.