Hair toppers are great solutions for women with hair loss. They wear the hair toppers and blend the hair topper with their own hair, and then feel themselves again. At UniWigs, you can find the best hair toppers for women as we know that hair toppers are not just a piece made of hair, but your life-changer. Wearing hair toppers can be exciting. But wearing the wrong one is not pleasant at all. So how can you pick the best hair topper that will work for you? Here are a few things you need to know about the process.
Make sure the hair topper color is the same as or pretty close to your own hair. Hair toppers are different from wigs. With the limited size, women's hair toppers can only cover a part of your head, which means you will have a part of your own hair showing outside of the base. So if you have naturally black hair but you feel like trying a light color, to be honest, that's not a good idea. Just don't do it.
The second step is to know your hair length. It's not the thing that you personally think what length it should be and then you just order it. No! It's always suggested that you go to their website, or reach out to their pre-sale service team, and let them know your hair length by sending them pictures of your hair or telling them where the hair ends at the front. That's the correct way to know what length of their toppers will fit you. Remember, always ask customer service rather than order the length you assumed.
Last but not least, the base size is one of the driving factors that affect whether a hair topper will work or not because the hair topper's base will always be at least one or more inches bigger than the area you will need to cover. That's also to help guarantee there is enough hair left around the clips of the hair topper so it can hold the topper securely.
With the color, length, and base size all fitting in, the topper will work anyway. These are the basic aspects when you make a choice. If you are looking for more tips beyond these, let's move the part 2.
Synthetic fiber vs Human hair
As we all know, the price of human hair toppers nowadays can be way higher than synthetic ones. But it does make the topper more versatile. You are allowed to use any heat tools on the human hair topper and do whatever you want to it like what you would do to your own hair. And it's not easy to get tangled at all. While for a synthetic topper, some high-quality synthetic fiber cannot bear the heat. Or if they can bear the heat, the fiber will get to be really heavy. One good thing about synthetic hair toppers is that you don't have to have a hard time styling it before you go out for dinner or anything. It always sits there and keeps the style just like when you receive it. However, that is not the case for human hair. With the human hair topper, you will need to style it often when you take it out of the box. It will get out of shape during long-distance shipping. It's like your hair will become a bit messy when you get up in the morning. So when you decide to buy a hair topper, take these factors into consideration, including the price.
Density vs Hair volume
Many people will take it for granted that a high density is more hair. Unfortunately, this is NOT the case. A higher density of a topper doesn't mean there will be more hair volume. Hair volume is about how many strands of hair are sewn into the unit hole on the base, while density is talking about how many unit holes will have hair and then how many unit holes will have no hair around them. With the same density, the bigger the base size is, the more hair volume there is.
So when you decide to buy a hair topper, take these factors into consideration, including the price.
Here are some recommendations from the UniWigs hair topper collection. Take a look at their details and see if there is one that fits your pattern.
5.5″x5.5″ Claire | Mono Top Remy Human Hair Topper | Lace Front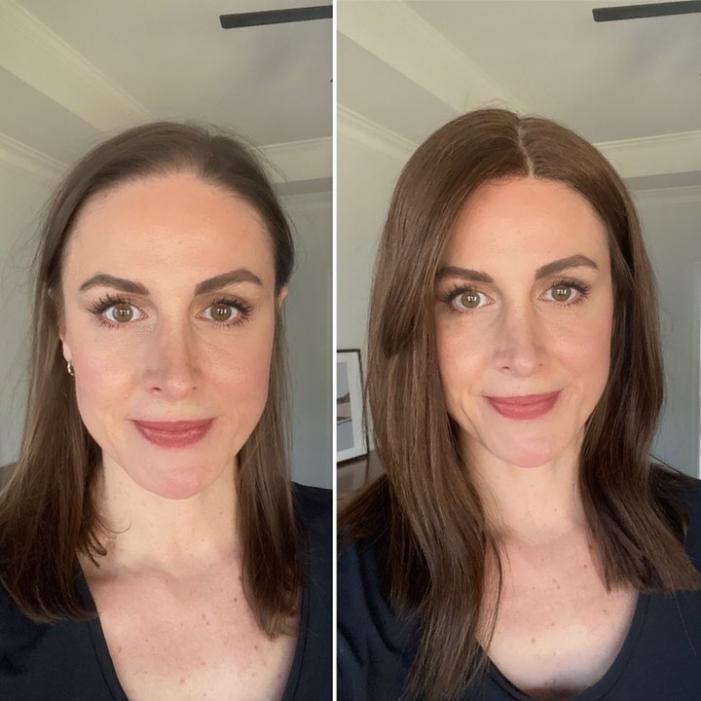 7″x8″ Courtney | Mono Part | Left Part Remy Human Hair Topper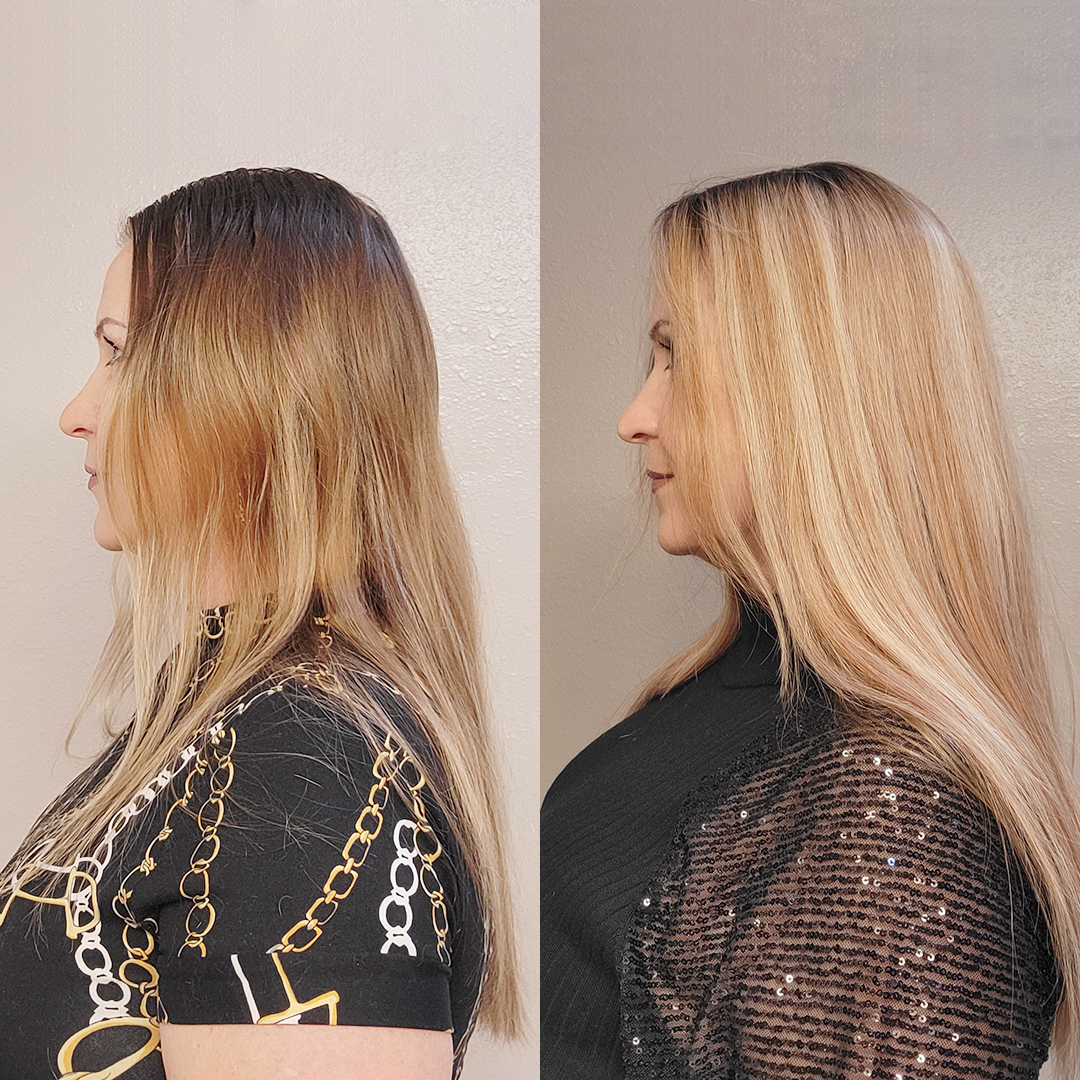 7.5″x7.5″ Aura | Skin Part | Left Part Remy Human Hair Topper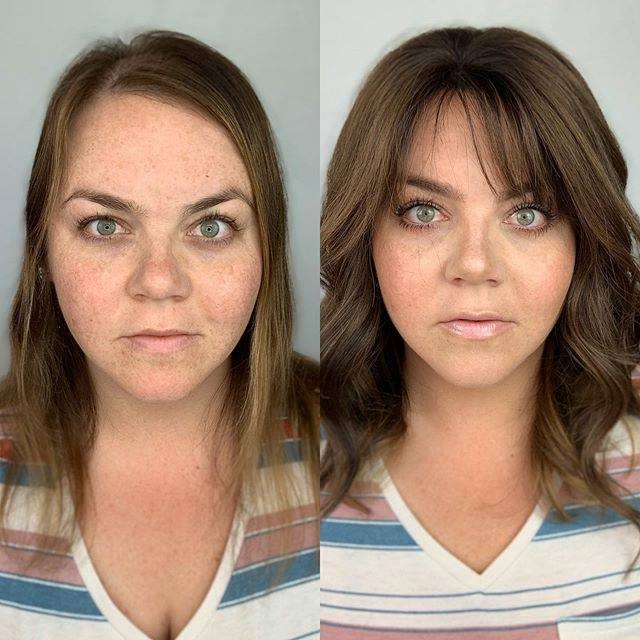 8.5″ X 9″ River mono top synthetic hair topper | Layered bob style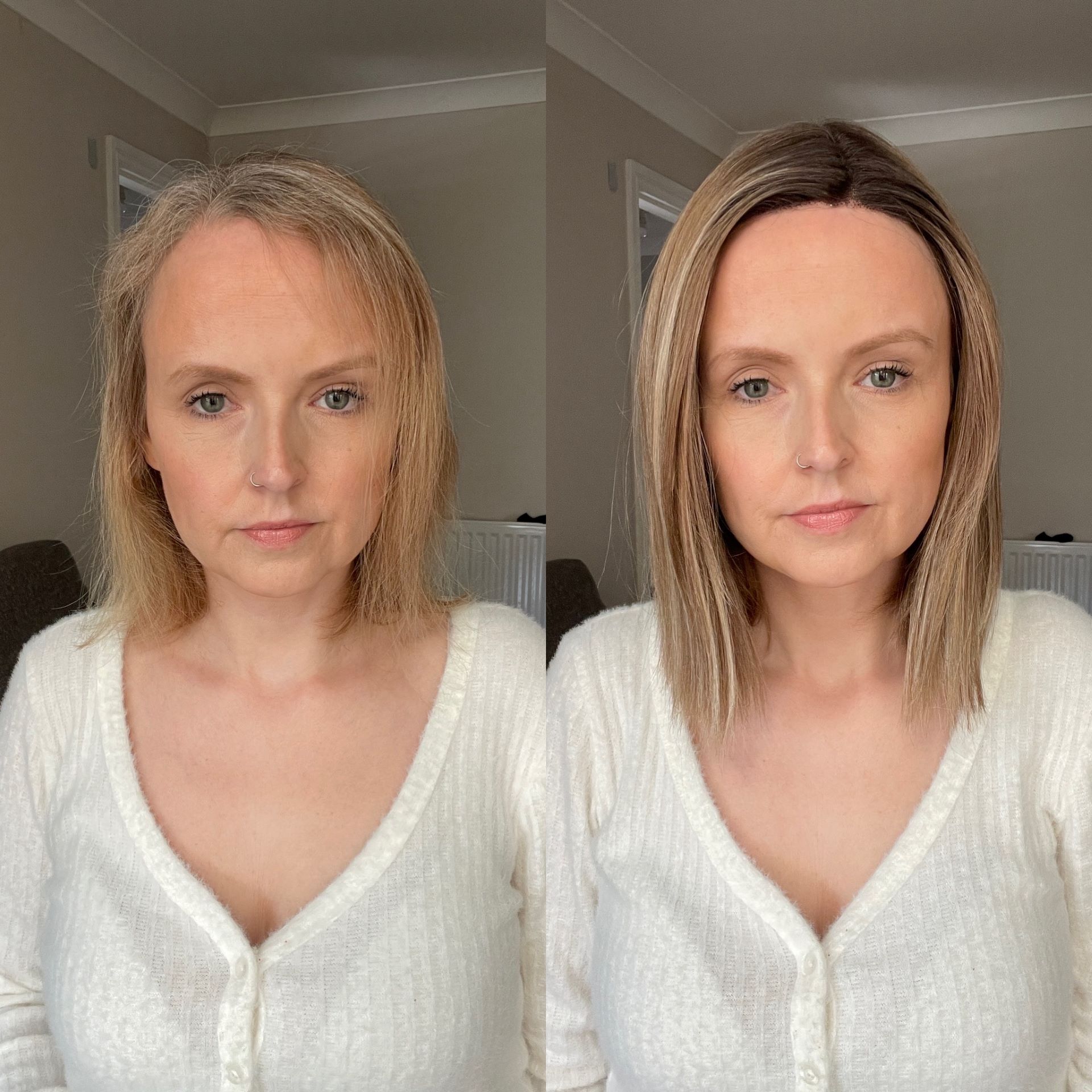 9" X 9" Savannah Silk Top Remy Human Hair Topper | With Layers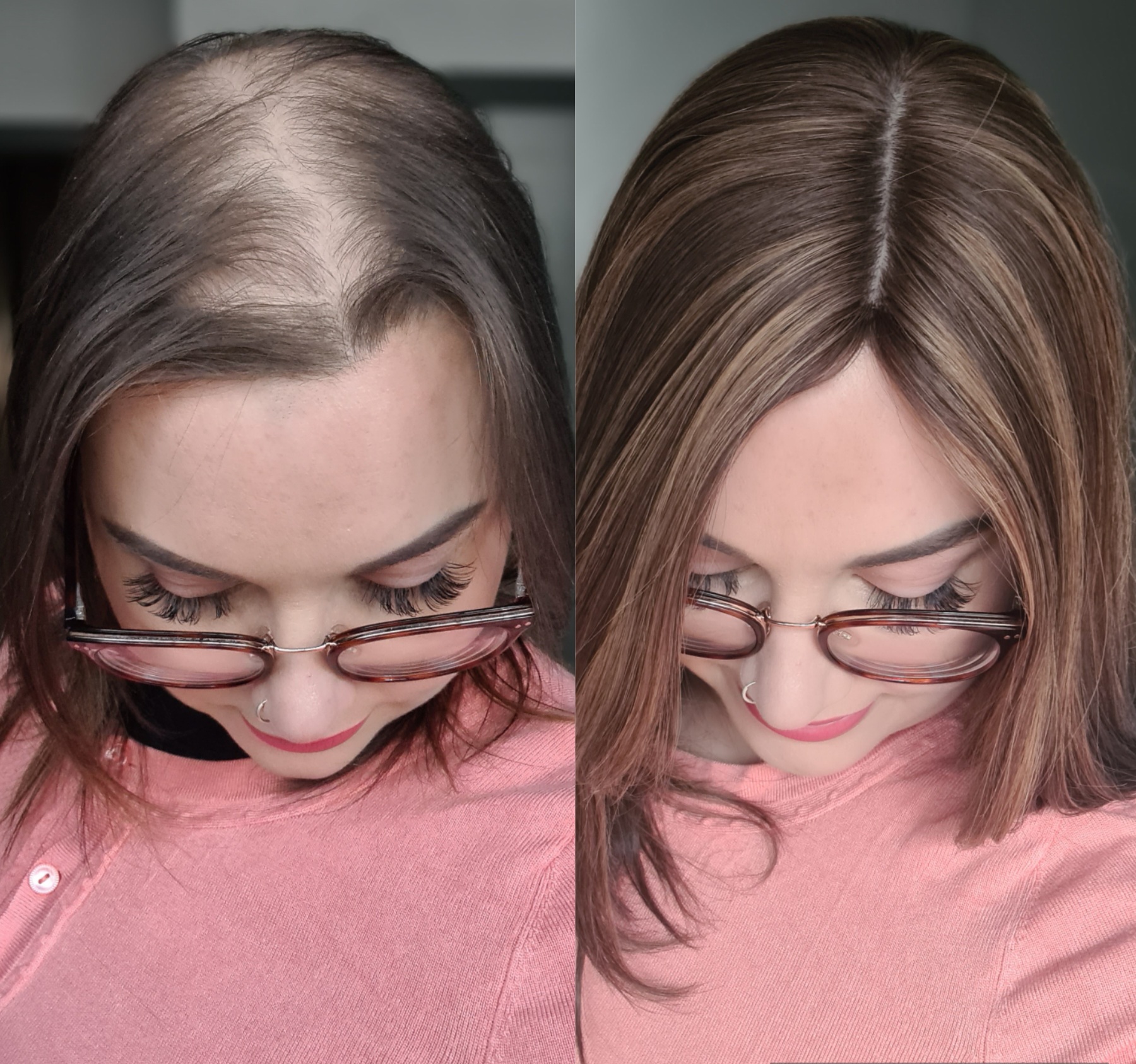 8.5″x9″ Hope | Mono Top Synthetic Hair Topper | Lace Front