Hair extensions are increasingly popular. It has become a huge global business with human hair extension supply and demand at an all-time high. Not all hair is created equal. Quality human hair wigs will cost you a lot of money. Take a look at the best wig websites, an average good quality human hair wig will cost you over $1,000. At the same time, you can get a synthetic wig for less than $50. Many factors play a significant role in why wigs have such varying prices and why spending money to invest in good quality human hair extensions will pay off in the long run.
1.Human Hair and Synthetic Hair
a)Human Hair
The quality of the hair determines up to half the cost of the hair extension price. Just as the name states, human hair extensions are made out of real human hair collected from donors. It is important to get your human hair extension from suppliers who ethically source their hair. Why? Ethically sourcing means the women who donated their hair are paid. It also means that the donor and their hair will be healthy and long. Best wig websites will provide this information on their site to inform their customers.
Once hair is soured, the hair goes through a rigorous process of disinfecting hair from any lice, germ, bacteria, dirt, or any diseases. Natural hair has a natural smell, so donated hair goes through a disinfecting process that results in odor-free hair. Another process involves ensuring all the hair strands lie in the same direction, with the ends of the hair together and the roots together.
This labor-intensive process ensures good quality human hair wigs and the reason for the high prices. Just like your own hair, human hair wigs are extremely popular due to the versatility in styling them. Can use heat styling tools such as straighteners, curling iron, and blow dryers to color treat the hair to your liking. They can last for a very long time if you can have a great wig care routine.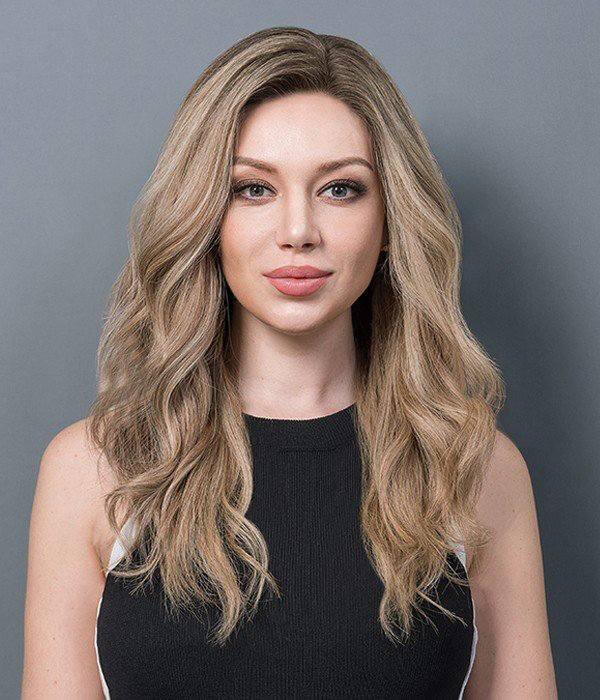 b) Synthetic Hair
Synthetic hair is much cheaper and cost-friendly than human hair wigs. The hair fibers are made from various synthetic blends of plastic that are made to mimic human hair. Owing to the demand for affordable synthetic wigs, there are good and durable synthetic hair extensions available in the market. However, synthetic hair will not blend easily with natural hair as it does not appear natural and is not as soft, silky, and smooth. Its plastic fiber material means it can easily be damaged by the sun and friction from clothing or surfaces such as furniture. It also cannot be heat-styled or it will melt. Most times, synthetic wigs come pre-styled and often cannot change much, even after washing as they revert to the style they originally came in when purchased.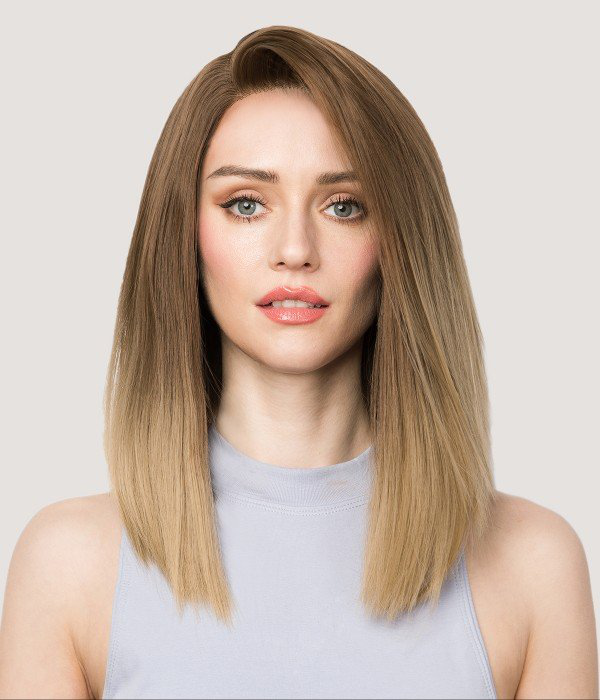 2.VIRGIN HAIR, REMY HAIR AND NON-REMY HAIR
a)Virgin Hair
Virgin hair is 100% pure, unprocessed hair, making it the most expensive type of human hair extension. Unprocessed means it has not undergone any chemical processing such as dye, color, perm, or any harsh altering process. It is also sourced from a single donor. Due to no harsh processing, the hair is stronger than most human hair wigs and extremely durable, therefore, lasts longer. Its cuticles are still intact and all of them run in the same direction which means the hair is soft, shiny, and smooth.
b)Remy Hair
Remy hair is extremely popular as it provides the best of the best options when it comes to human hair wig selection. It is one of the highest grades of human hair extensions available on the best wig websites. Remy hair is still 100% human hair. Remy refers to the quality grade of hair and is classified depending on the country of origin such as Indian, Chinese, Mongolian, Peruvian, or Cambodian, etc. Intensive labor takes place to ensure cuticles are intact and not damaged when any kind of processing takes place. Intact cuticles mean the hair will lay flat, therefore, a smooth hair texture that lasts longer and has a more natural appearance.
The hair strands are aligned to lie in the natural direction resulting in the hair to be smooth and silky. All the effort that goes into Remy hair makes it costly.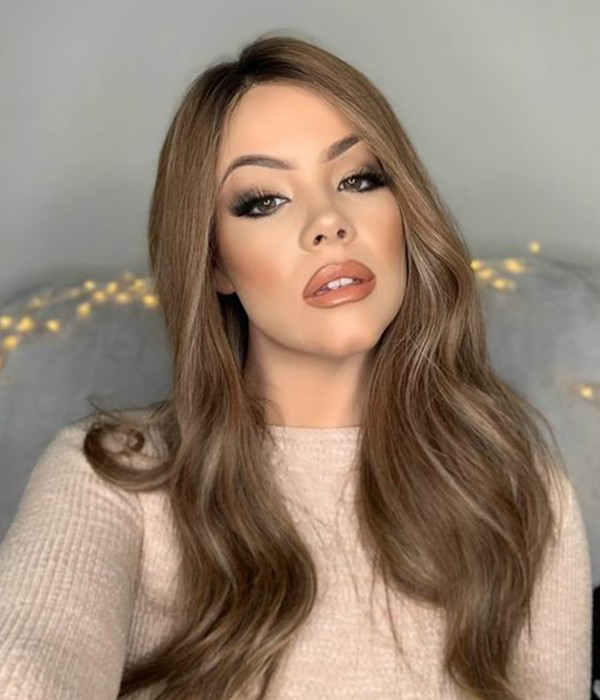 c)Non-Remy Hair
Non-Remy hair is less expensive than most human hair extensions. It comes from multiple sources which include donors and fallen hair, either from hairbrushes or floor scraps. The cuticles are intact but unlike Remy hair, will flow in different directions; a mixture of hair ends and roots. The hair not being aligned results in detangling, shedding, and matting problems. Non-Remy hair undergoes harsh chemical processing to disinfect and clean it. These harsh chemicals strip the cuticle completely. A large silicone coating is applied to give the appearance of softness and shine; however, this is temporary. After a few washes, the silkiness and softness wear off leading to a lot of tangling and matting in the long run. Stripped cuticles mean non-Remy hair does not take well to heat or color treatment. All this makes non-Remy hair quality not the best.
3.BASE MATERIAL
The base material of the wig plays a big role in the selection of your wigs. It is the foundation of your wig and holds the hair fibers in place. Lace and mono-based wigs are more affordable as they are more breathable and ventilated by using hand-tied knots. Silk and skin base materials are much more expensive due to the material used and the hair fibers injected into the material giving the illusion hair is growing from the scalp skin or silk. No knots therefore flexibility in styling.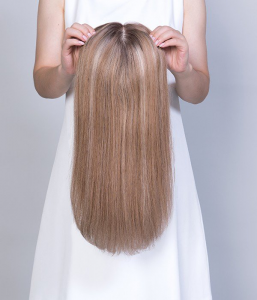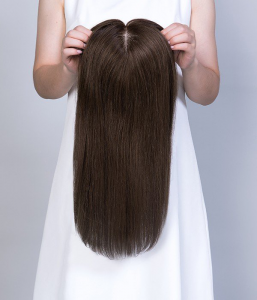 4.HAND-TIED AND WEFTED WIGS
a)Hand-Tied Knots
Hand-tied knots can be constructed from either human hair or synthetic hair. Depending on the length, style, and density, constructing a hand-tied wig is a labor-intensive process that can take up from 40-150 hours. Having a skilled maker is extremely important. Each strand of the hair fiber is individually hand-knotted into the mesh cap. This ends in a more realistic wig with hair moving in any direction and a more natural appearance making it flexible for styling. Lack of weft gives the hair that soft and luscious look making them great for people with a sensitive scalp. The intense process of construction makes it more durable and lasts a long time. The intricate process of constructing a hand-tied wig makes them costly.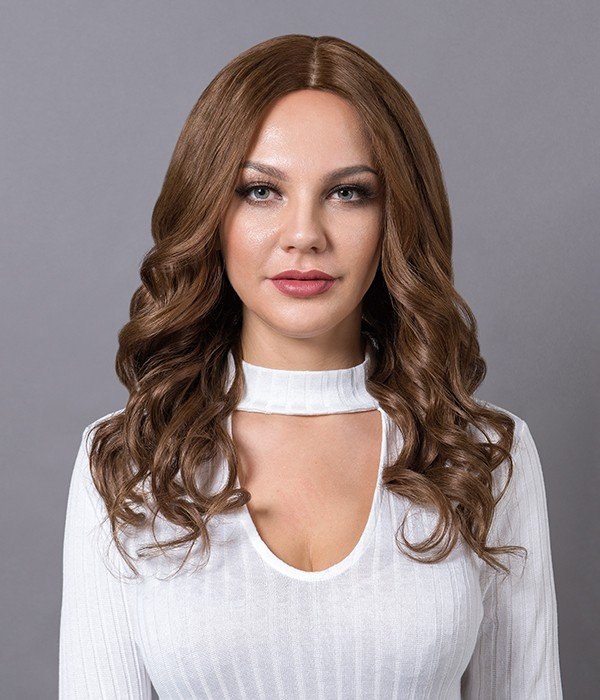 b)Wefted Wigs
Using a machine, the hair fibers are sewn into the base material of the wig creating a row of uniformly aligned strands. Being made by a machine makes them cost-friendly as they are faster to produce. Hair sewn in a row means they cannot move in any direction, so, unfortunately, the wind is not your friend. This also makes styling options limited. It is less realistic if you are looking for that natural appearance you get with hand-tied human hair extensions.
5.CUSTOMIZATION OF WIGS
This affects the pricing of your human hair extensions. Customizations can be; length, color, hairline features, texture, or type of human hair extensions that contribute to the increase in the cost of your human hair wig.